Hello everyone,
My partner and me have 4 beautiful girl rats, of varying ages and colours. We love them dearly, but unfortunately life has gotten in between us and them. We can't give them the time and attention they need, let alone what they deserve. So we have had to make the tough decision to find a new home for them, where they can receive the daily attention they crave.
A friend suggested we split them into two's to find homes for them. However, I really don't want to split them up. They are a family, and have already lost two friends two weeks ago. I would much rather they stick together.
A little bio of each of them:
Sophie:
(Russian Blue)
Sophie is our oldest, and only remaining girl of our original 4. She was a surprise rescue that we got when adopting three girls from Bea's Rat Rescue in Dublin. She was left behind because she is missing a lip, and noone seemed to want her. The missing lip has no ill-effects on Sophie, only a positive effect if she's sick and refusing to take food or medicine.
Sophie has an unlimited supply of energy, and absolutely loves her wheel. She has slowed down a bit in her age (about 2 years old now), but compared to any other rat, you wouldn't have a clue. Only that we have seen her in her prime, that we know she's slowing down.
Sophie loves food, almost as much as sleep (When shes not running around the place!). This means you don't stick your finger in the cage - Haha. However, although she will use her teeth to see if you are food or not, she never bits to harm - ever! If you give her a closed fist, she will examine every inch of it to see whats inside it (it might be food!).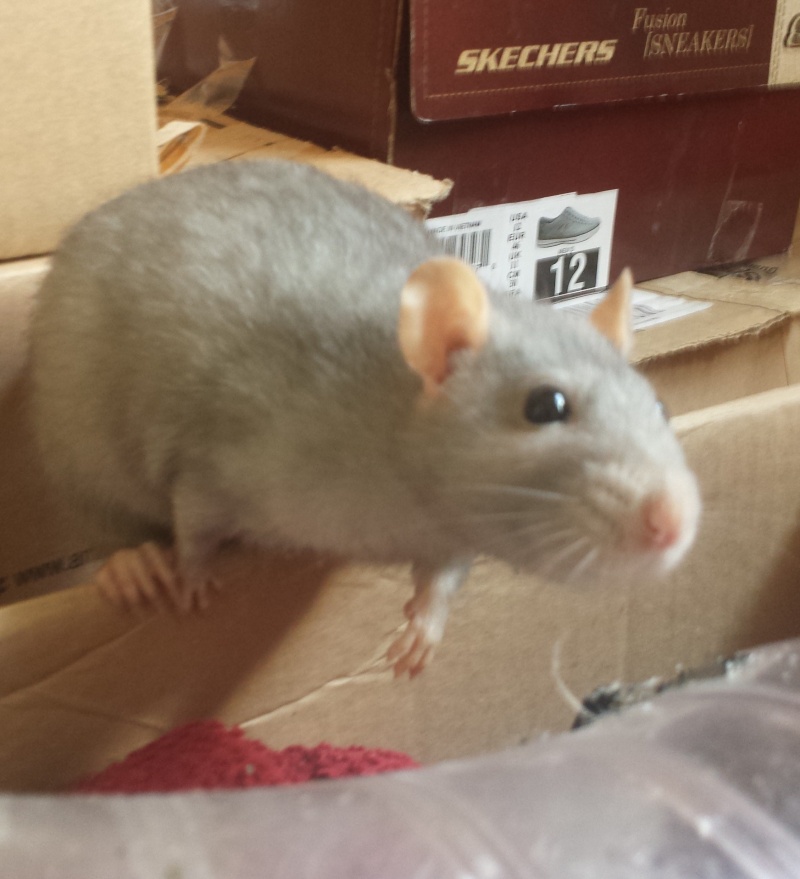 Piper:
(Don't know her breed)
Piper is our most recent rescue. she came with a friend, who we sadly lost recently. She is very affectionate, and loves to be close to you.
If you are not around, she sticks to
"The Babies"
(See below).
Piper has a condition with her eye, where it appears to bleed regularly. This mucus discharge has been seen by the vet and is harmless to Piper or the other girls. You might need to clean it now and again with a wet earbud, but that is all.
Piper also loves food, and will let you do anything (clean her eye, check her teeth, etc) as long as she gets a treat. Haha.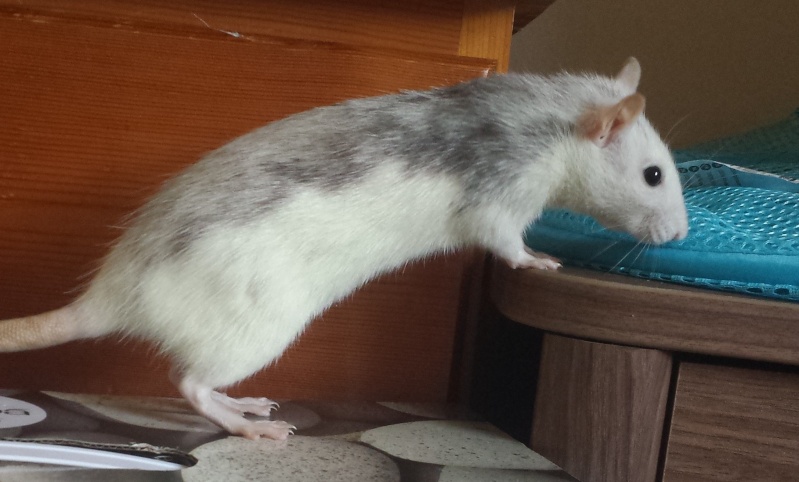 The Babies:
The Babies are what we call our two newest girls. They are not babies anymore, but are still only seven months old. They are basically twins, bar the fact that Ellie is a Dumbo rat, and Lilly is not. I've given them a combined section too, because some of their characteristics are the same for both of them.
We got
"The Babies"
when they were 4 weeks old, hence the nickname. We got them from a pet shop (I know, pet shops are bad, Blame my SO, she couldn't resist them. Haha) in June last year.
The Babies
are stuck to each other, where you find one, the other will surely be close by.
They both will generally eat the first bit of food you give them, but every subsequent piece gets stored somewhere (usually outside the cage - they haven't yet coped that thats a bad idea).
When it comes to treats, these girls have you sussed. While you are hand feeding the others one at a time,
The Babies
have figured out that you are getting these treats from some source, and have promptly climbed onto you to find the source and help themselves. Incredibly smart girls!
The Babies
both love to spend time inside your jumper, tshirt, pants...clothes in general. Haha.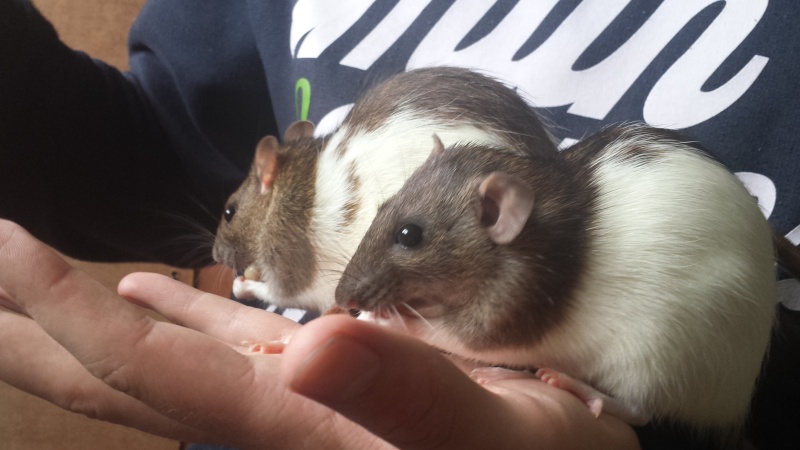 Ellie:
(Dumbo hooded)
Ellie is so very curious! She battles between her curiosity of what is going on, and her timidness. It makes for some entertaining moments of her head bobbing in out of the cage. Ellie loves to climb, and will climb up and down you all day. She loves to climb in and out of jumper sleeves. She seems to like the elastic wrist part.
Ellie is a bit of a Rodentist too. She just has to know what you had for lunch! She will climb up to your shoulder, and move your head for you so she can get to your mouth - or climb your beard. Haha.
Lilly:
(Hooded)
Lilly is very shy, like Ellie. Except that she will take a wider berth to get to what shes curious about. She will run around the room, hiding behind different objects along the way, getting closer and closer to you, before she will climb on you. Unless Ellie is already there. She trusts Ellies judgments. Lilly seems to see Ellie as her protector. If you startle the girls, Lilly shoots for Ellie and sticks to her side. She may be protecting Ellie for all we know, we can't be sure. One thing is for sure, they are inseparable.
Their current habitat is a two story Ferplast Furet cage. Suitable for up to 18 rats apparently. More than enough room in one of these cages, let alone with the two together. We had 7 in it at one stage, and still plenty of room! We also have two other cages (a small hamster cage and a Critter 3) that we use for quarantine and intros (respectively). They have a plethora of toys and tunnels and cardboard boxes, and old clothes, and anything we give them. Spoilt isn't the word for it. If all 4 go together, you can have the lot. All of it. Cages, toys, old clothes, all of it.
Rat Mustache...
If anyone is willing to give these amazing girls a new home, please let me know! They would love to meet you!

soulphish

Junior Member





Posts

: 34


Join date

: 2014-01-04


Age

: 31


Location

: Dublin



Hi!
Where abouts are you located? My daughter has been dropping lots of hints since before Christmas about wanting to offer a home to some ratties. She decided to take a break from rats as we lost four of them in four months and her heart was completely broken. I'll have a proper chat with her tomorrow to see how serious she is about getting rats again and I'll get back to you?
thanks

EssDubya

Junior Member





Posts

: 42


Join date

: 2011-09-27



I'm in North Dublin, but I can transport for the right home.

Let me know what she says. We have hundreds more photos, if she wants, or she can come visit them if she wants?

soulphish

Junior Member





Posts

: 34


Join date

: 2014-01-04


Age

: 31


Location

: Dublin



Hi :-) sorry for taking so long to get back to you but we're still thinking it over!! Its a big commitment so we want to make sure we're making the right decision. Are you around on Saturday for a visit?

thanks,
Sue

EssDubya

Junior Member





Posts

: 42


Join date

: 2011-09-27



This weekend is actually the only time I'm not really around. Gone from early Saturday til late Sunday. Are you around Monday to Thursday?

soulphish

Junior Member





Posts

: 34


Join date

: 2014-01-04


Age

: 31


Location

: Dublin



Hey Soulphish!  Do you still have the girls?

lynnthered

Newbie





Posts

: 9


Join date

: 2012-11-17


Age

: 35


Location

: South County Dublin



Hey Lynnthered,

Sorry, no. I meant to update this post. They have a new home already.

Thank you for wanting to help them though!

soulphish

Junior Member





Posts

: 34


Join date

: 2014-01-04


Age

: 31


Location

: Dublin




---
Permissions in this forum:
You
cannot
reply to topics in this forum