This is Edgar (previously Timmy) the eldest, was already introduced and co-habiting with the babbies when we got him.
He is not the father, butr is also a dumbo, blaze markings but this is seriously the best picture we could get of him.....
Krraang and Smarf. Krrang is the darker, hard to say if he is black or charcoal due to his fur, he seems to be a partial rex or maybe another fur type. Smarf is a Himalayan, with less colouration around his nose, so we can pretty easily seperate him from the other Himilayan, Pancake.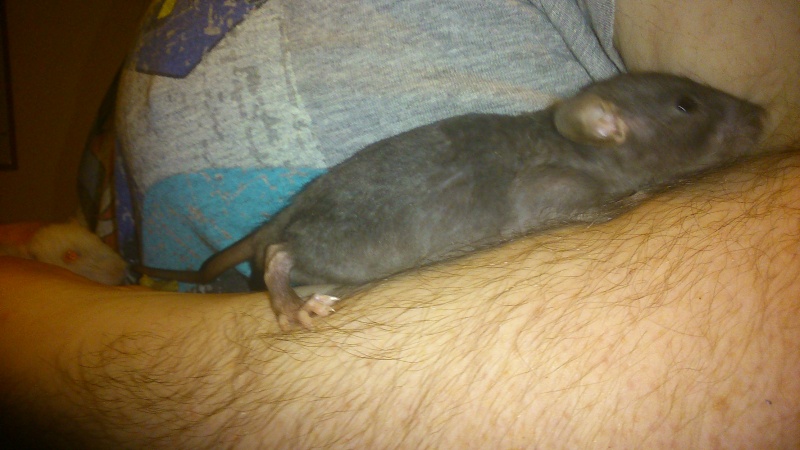 This is a side shot of Krraang, just to show that his fur isn't as wavy, and his whiskers are droopy, but not curled. You can also see Smarf poking around in the background. We have a suspicion that Krraang may be a satin, or something similar (or possibly just not a show class rex).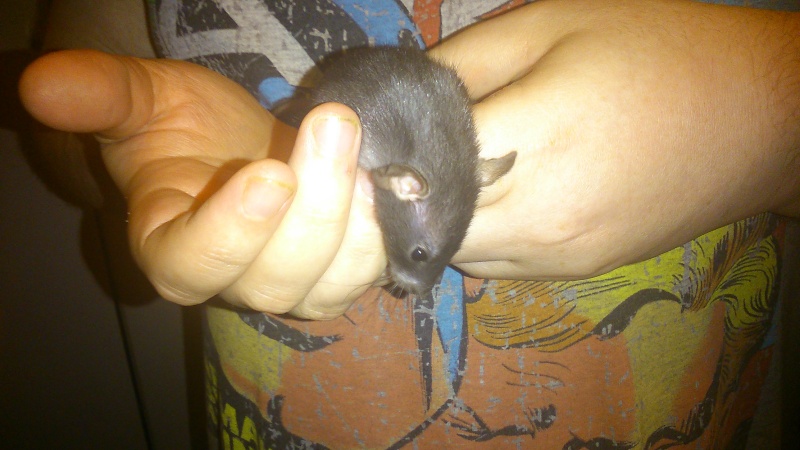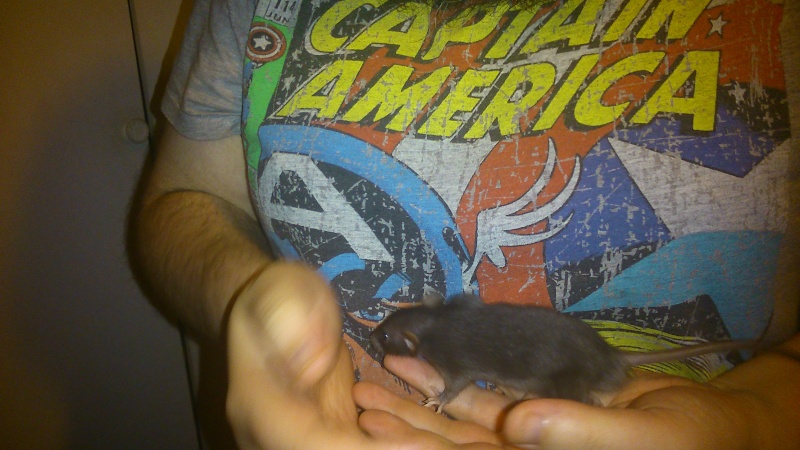 This is Loki, the only straight-haired babby, black self dumbo. Charismatic, gregarious and curious he will definitely cause trouble.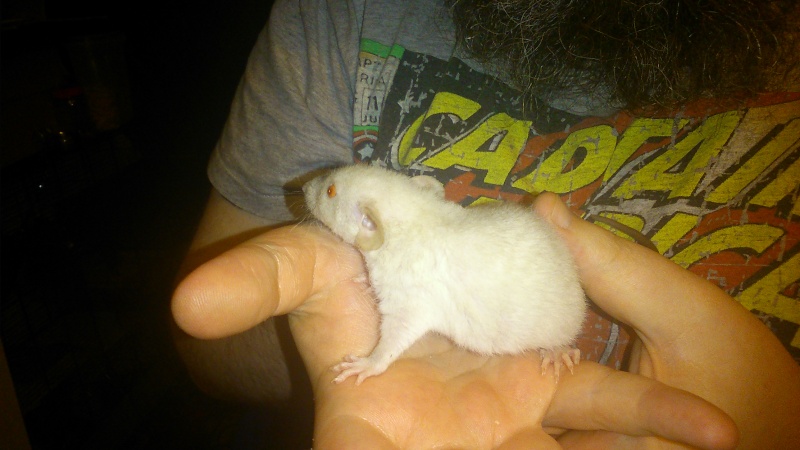 And last but not least, Pancake, he has a defined dark smudge on his nose bridge, and is a little less skittish than Smarf.
Like Smarf, he has red eyes, lighter than his sisters but not too faint, and both Smarf and Pancake are definitely rexes.
All happy and healthy, we feel the guys are a little small for 6 weeks, so intent to help them bulk up. They love their big cage, and have been climbing everywhere. The hammocks all have at least one occupant throughout the day.
They're all still fairly skittish, loud/sudden noises and repeated handling tends to make them nervous. But they all come to the cage door in time to see what's going on, and may possibly be enjoying the cuddles inflicted on them.
They are getting used to us rather quickly, and even occasionally co-operate when we try to put them back in the cage.

Tribble

Senior Member





Posts

: 124


Join date

: 2012-10-14


Location

: Cork City



Aww bless them, they are tiny - sorry I'd not replied to this before- forum issues! >
They are sweet looking though - the one is a rex - just very poor curl to the coat. I would also say black in colour, two of them, charcoal isn't a colour -they are what we'd call bad blacks
xx
_________________
Laura Woods
Bongo Fury Rattery
- Hobby rattery breeding for Russian varieties and Mink and Cinnamon with plans for Pearl based in the future. Based in West Cork. We are NFRS and IFRA members.
hah, well they are adorable, yes
They all seem to have a few issues (except for Loki, who will just cause trouble).
Smarf has a bit of head-weave and seems to have some minor nasal scarring (little pidgeon noises once), but they are all relaxed and happy. The himilayans aren;t perfect rexes either, better than Krraang, but no actual curls in the fur, just waveyness. It is significantly more obvious on them though.
All in all, they seem to have been seperated a bit young, but have recovered nicely, and are becoming festively plump

Tribble

Senior Member





Posts

: 124


Join date

: 2012-10-14


Location

: Cork City



Aw just seeing this as i've been having issues with my phone!Such lovely pictures x Ive been lucky enough to meet these gorgeous boys and they are absolute sweethearts!
_________________
Proudly owned by The Squirmin' Vermin and The Micicles,past and present

smokierat

Moderator





Posts

: 881


Join date

: 2011-09-26


Age

: 32


Location

: Cork (city)



---
Permissions in this forum:
You
cannot
reply to topics in this forum